REDEFINING THE REAL ESTATE EXPERIENCE, ONE FAMILY AT A TIME
Our Company Story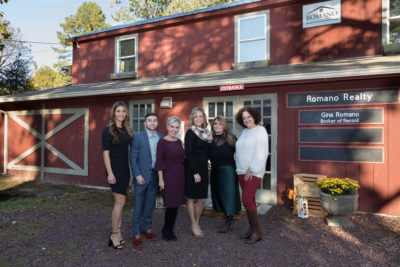 After 15 highly successful years serving the tri-county region, Romano Realty was born with the vision to become South Jersey's premier boutique real estate brokerage. Our unique hybrid model encompasses the efficiency of strong systems, foundation of unparalleled market knowledge, plus a strong caring-centric focus on building lasting relationships with our clients. After all, when you work with Romano Realty, you become family to us! Our Broker/Owner, Gina Romano, has assembled a hand-picked team of like-minded real estate professionals who are focused on taking care of their clients in an advisor-like fashion, delivering the highest satisfaction in your real estate transaction – be that finding the home of your dreams or selling your current home as you advance to your next vision! This caring relationship model extends within the Romano Realty team as well as Gina expands her "advisory role" to her team as she coaches and nurtures their professional development. Look no further than a Romano Realty professional for your real estate needs!
Mission: To employ a unique client-centric advisory role to deliver the best possible real estate transactions for all our clients.
Vision: To become South Jersey's premier boutique real estate brokerage firm.
Promise: To listen and understand our clients' Real Estate wishes, and always do our unwavering best to fulfill their dreams.
We pride ourselves in providing the best customer service possible and take into consideration that this might be the most important transaction that you will ever make. We feel that selling the American Dream is still alive and well.
YOUR TRUSTED SOURCE FOR LOCAL REAL ESTATE
We believe that Real Estate is a relationship business, one built for life. Remember, you're family to us! If you are looking for such an experienced and enthusiastic Real Estate professional, please contact us today! You surely won't be disappointed!